How to reach Camp Catta
| | |
| --- | --- |
| | From Fianarantsoa, take the RN 7 heading south, drive 37 kms after Ambalavao, just below the two rocky peaks which symbolize "The Gates to the South" (that separate the Betsileo and the Bara regions). |
---
Just before Tanambao or Antanambao village, you will notice a big square house on the right side of the road (to the North).

Take the track on your left (the first 100 meters are not clearly outlined) toward South-South-East and follow the evident tracks that will lead you to Vohitsaoka 8 kms away.
---

Though the track is not very convenient, it is taken several times a week by the Peugeot vans 404 on which the whole region relies for its supplies
Watch out ! Bridges may be dangerous... Inside Vohitsaoka, drive through the village keeping the left side of the road. When you leave the village, a signpost will indicate you Camp Catta.
From now on difficulties begin and you have to use 4WD cars. The track is winding deep in a valley which gets narrower and narrower going across ravines, and irrigation canals.
---

Just at the end of the narrowest path, stands mount Tsaranoro dominating the whole valley. We have settled at the edge of the sacred forest , just beneath mount Karambony (with its 500 m yellow and green colored front, a very typical feature indeed).
About 3Kms after this site, at the entrance of the small village of Andonaka (signpost), take the path leading west (on your right). You can't miss the curve right below the cliffs and then see our village nesting against the side of the mountain. Have a nice ride!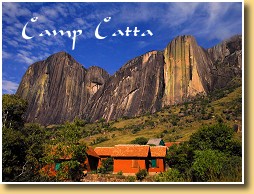 ---