Welcome to Camp Catta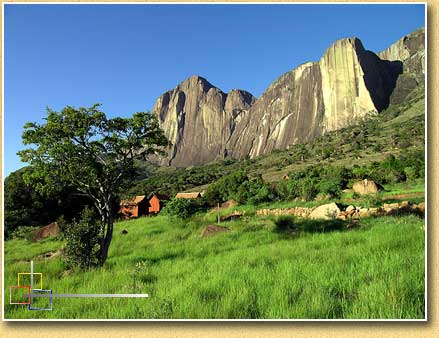 - Situated at the foot of Tsaranoro's cliff, not far from the sacred forest with the same name, Camp Catta will heartily welcome you in accordance with Malagasy tradition.
Many options are suggested for your accomodation:
- bungalows
- tents
- Pitches

- as well as for your catering:
- full board
- Partial board
- You can enjoy a fresh drink at the snack bar (Catta bar) when coming back from your day trip or have a make up rum during winter evenings as it can cool down a few degrees below 0°C from June to September (southern winter)
You can practice your favorite sport
- hikes
- trekking
- climbing
- paragliding
- Mountain biking

...No matter your level, from few hours walk to several days trekking, climbing initiation or primary routes for professionals, paragliding in a magnificent scenery, mountain bike rides through the red paths of this out-of-time valley. So, why not having a small break on the south road to take time to meet Malagasy people and this such a rich nature .
---